Postural Integration is a method of Bodymind Integration, developed by Jack W. Painter, PhD., auspiced by ICPIT (The International Council of PychoCorporal (Bodymind) Integration Trainers.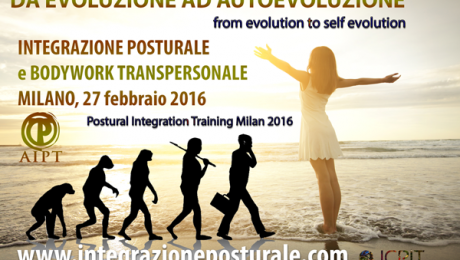 Massimo Soldati
Sono aperte le iscrizioni al nuovo anno 2016 del corso di Integrazione Posturale.
CORSO DI INTEGRAZIONE POSTURALE E BODYWORK TRANSPERSONALE®
Il 27 febbraio inizierà un nuovo anno di training
Il corso dà gli strumenti per impiegare la corporeità in un contesto di crescita personale, autoevoluzione, relazione con l'altro e con il gruppo. Tali strumenti permettono lo scarico delle tensioni, l'accesso alle naturali capacità di riequilibrio energetico, lo sviluppo di vitalità, creatività ed espressività, l'aumento delle abilità di cenestesi, concentrazione e meditazione. Esso è costituito da più moduli progressivi, che permettono vari obiettivi formativi: full immersion esperienziale, Bodywork Transpersonale®, Postural Integration®, Counseling.
Raffaele Cascone
Carmine Piroli